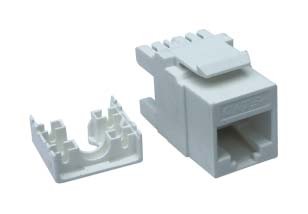 RJ45 data connector FEMALE CAT-6 UTP (AUTO-Crimpable)
Description
Data Connector UTP RJ45 CAT-6 Male (Auto-Crimpable),CONECTOR DE DATOS RJ45 UTP CAT-6 HEMBRA (AUTO-CRIMPABLE) JK-1006
Description:
Female RJ45 connector for data or telephony, ICT needed for both installation in the RITI, as in the RTR.
No need to use crimping tool,Put the wires directly onto the connector and close are "self-crimp".

It can reopen to get them out cables,They are reusable.
Auto-Crimpable (219,901), making it reusable.
CAT6 UTP.
Maximum resistance: 100mΩ.
Attenuation: 5.8dB.
Accordance with Rule 568A or 568B wiring. The same shall be maintained throughout the entire facility.