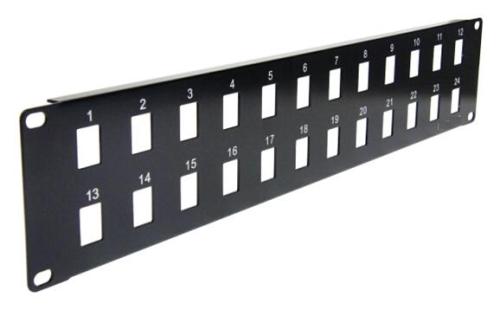 Blank Ethernet Rackmount Patch Panel 12 16 24 48 port
Description
Blank Ethernet Rackmount Patch Panel
Description:
Blank Patch Panels are perfect for CAT3, CAT5E, CAT6, CAT6A, and CAT7 network installations.
These patch panels contain standard sized spacing for jacks and are available in 12-Port, 16-Port, 24-Port,48-Port configurations.
Our Blank Patch Panels are designed to fit in a standard 19" network rack or enclosure and accommodate snap-in keystone jacks for fast and easy installation. Choose from a variety of our keystone jacks to create the perfect solution for the home or office network.
These Blank Patch Panels have flanges, rounded edges, and have a sleek black finish for a clean and professional aesthetic.
Our Blank Patch Panels come with pre-numbered ports allowing the installer to identify the cable runs and stay organized. Furthermore, our Blank Patch Panel are designed to meet and/or exceeds industry standards, ensuring safety & maximizing the performance of your network.
Features:
Premium CAT6 Patch Panels
Available Sizes:
12 Port (1U)
16 Port (1U)
24 Ports (2U)
48 Port (3U)
Designed for use with Primus Cable Unshielded Patch Cables
19" Rack an Enclosure Mountable
Includes Cable Ties & Mounting Screws
A rack unit, U or RU is a unit of measure that describes the height of electronic equipment designed to mount within a 19-inch rack or a 23-inch rack. The following are some dimensions of rack heights that are common to computer equipment:
| | |
| --- | --- |
| Rack unit | Dimensions |
| Half-U | 875in-22.25mm |
| 1U | 1.75in-44.45mm |
| 2U | 3.5in-88.9mm |
| 3U | 5.25in-133.35mm |
| 4U | 7in-177.8mm |
| 5U | 8.75in-222.25mm |
| 6U | 10.5in-266.7mm |
High-Density - For networking projects where space is at a premium and efficiency is paramount, Typically, these high-density patch panels feature more keystone jacks while still adhering to the industry-standard rack sizes.These patch panels come in both 24 and 48 port versions with flush mounted jacks. It is designed from solid 16 gauge steel with rounded edges for safety.
Wallmount - This Patch Panel is able to be mounted to a surface or wall.
Rackmount - This Patch Panel is designed to be installed in a network rack as a component of a larger network system