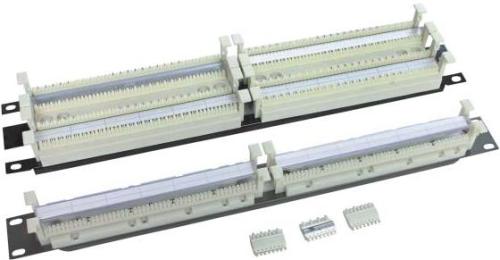 110 terminal patch panel JH-4212
Model

110 terminal patch panel JH-4212
Description
1. JH-4212-100, 100 pair , height: 1U × 19".
2. JH-4212-200, 200 pair , height: 2U × 19".
4. With 110 IDC connector.
We offer a complete set .
All parts including: 110 connect block(100 pairs or 200 pairs).
19'' Metal back panel,label holder,4-pair 110 IDC connector,5 pair 110 IDC Connector. 110 Cross connect block with 19'' back panel is suitable for all kinds of 19'' standard of mounting frame or cabinet. This product combines the easy terminaltion features of the 110-style Punch-down system with the proven performance characteristics of modular jacks.
From the closed to the workstation,the 110 cross connect system offers a complete,cost-effective means to wire a buliding for unshielded twisted pair applications.
Patch panels and jacks are available in T568A, T568b wiring standards; Making the 110 connect system adaptable to changing requirements.