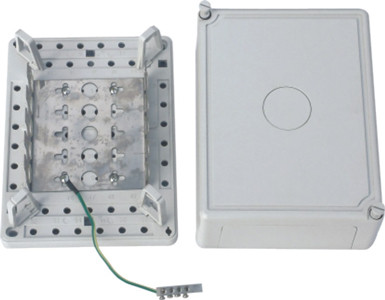 50 pair indoor distribution box for BT JA-2042
Model

50 pair indoor distribution box for BT
Description
Grey colored wall-mounted plastic distribution box containing mounting brackets for 10-pair IDC-type disconnection /connection modules( available separately). Cable entry hole in rear and cable entry cut-outs on all 4 sides. Four moveable jumper rings included.
1. The connection boxes loaded with LSA Modules. Used to provide transition point so that outlet positions can be moved frequently and efficiently without disturbing the horizontal cabling.
2. Including 1mm thickness stainless steel back mounting frame,but the modules shoule be ordered separately
3. The cover is secured by large head quick release screws.supplied with 4 jumper rings and earth post
4. Material of plastic parts:ABS
5. Size:258mm×107mm×90 mm.
6. There are 20,30,100 pairs for choosing
The connection boxes are versatile plastic boxes designed to contain various backmount frames and mounting ancillary components. The base has generous provision for fixing cable ties,jumper rings,earth posts, and connector mounting. Each cover types is secured by large head quick release screws and has removeable side and end panels. The end panels have breakout sections for cable entry. The connection boxes can be used individually or in multiple configurations when the bases are fitted together with base clamps and side or end panels removed. Unless otherwise specified, all boxes come pre-kitted with backmount frame, jumper rings,and earthpost.