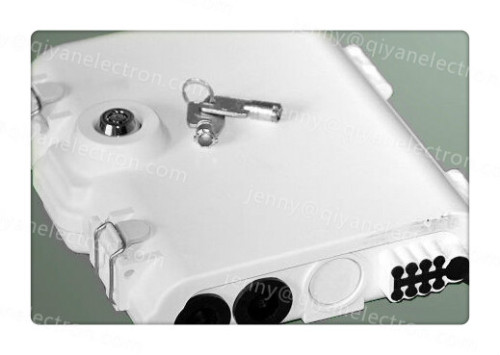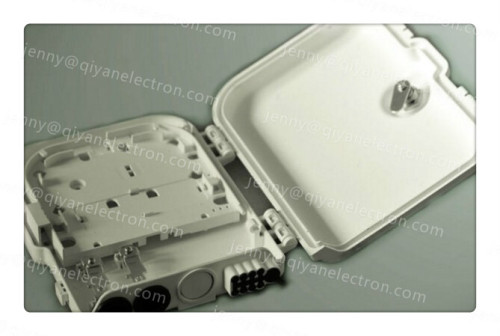 1x8 Passive Plastic PLC Fiber Optic Splitter Box Splitter Distribution Box lock type
Item specifics
Product name:

1x8 Plastic PLC Fiber Optic Splitter Box
Material:

Plastic
Place of origin:

Ningbo,China
Installation:

wall mounting or pole mountable
Description
1x8 Passive Plastic PLC Fiber Optic Splitter Box Splitter Distribution Box lock type

Overview:
This fiber optics distribution box terminates up to 3 fiber optic cables, offers spaces for splitters and up to 8 fusions, allocates 8 SC adapters and working under outdoor environments. It is a perfect cost-effective solution-provider in the FTTx networks.
Features:
1.1 ABS with PC material used ensures the body strong and light.
1.2 Water-proof design for outdoor uses.
1.3 Easy installations: Ready for wall mount - installation kits provided.
Pole mount (optional) – installation kits need to be ordered.
1.4 Adapter slots used – No screws and tools needed for install SC adapters and distribution.
1.5 Ready for splitters: designed space for adding splitters.
1.6 Space saving! Double-layer design for easier installation and maintenances:
Lower layer for splitters and over length fiber storage.
Upper layer for splicing, cross-connecting and fiber distribution.
1.7 Cable fixing units provided for fixing the outdoor optical cable.
1.8 Protection Level: IP55.
1.9 Lock provided for extra security.
2.0 Max allowance for entry cables: max diameter 12mm, up to 3 cables.
Max allowance for exit cables: up to 8 simplex cables.