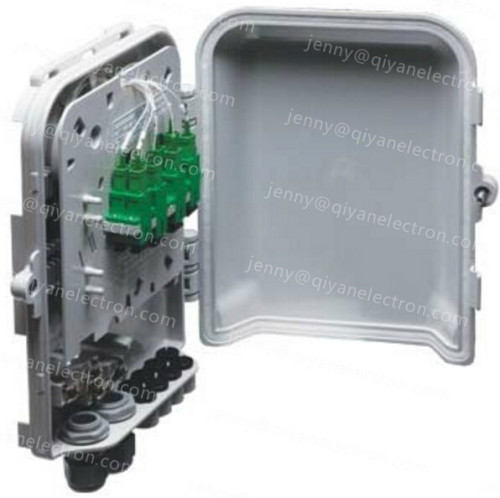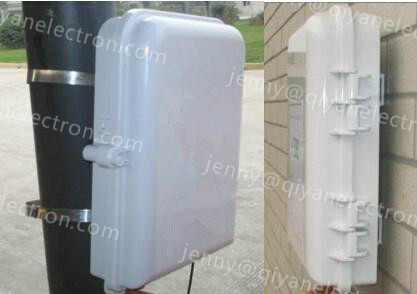 8-Port Wall or Pole Mountable Outdoor Waterproof plastic Fiber Optic Distribution Box
Item specifics
Product name:

Outdoor plastic Fiber Optic Distribution box
Installation:

Pole and Wall Mountable
suitable:

Outdoor Waterproof
Place of origin:

Ningbo,China
Description
8-Port Wall or Pole Mountable Outdoor Waterproof plastic Fiber Optic Distribution Box

Description:
As seen above, Termination Box is Pole and Wall Mountable, perfect for corridors, basements, poles, external walls and more.
Made with a high-quality plastic and fitted with a rubber gasket, this termination box is UV-resistant and rainfall resistant.
the small diameter cable enters the box and is fixed or fastened. and the back side of the tray with splitters and coils. Below are some pictures of both sides of a fully equipped tray. you'll see the drop cable leaving one of the output holes.
These Termination Boxes are highly customizable; they can be outfitted with almost any connector and can be used in a wide range of applications, including FTTH projects, Telecommuncation networks, CATV networks, and Data and Local Area Networks..

Feature:
> Made of high impact plastic, outdoor installation with IP65
protection
> Wall mount and pole mount available, dust-proof design
> 2 cable input ports and 8 / 16 output ports, suitable for 8/16
way PLC
> Anti-UV, Ultra violet resistant and rainfall resistant
> With function of mechanical splice, fusion splice, wiring distributions
Applications:
> widely used in FTTH access network.
> Telecommunication Networks
> CATV Networks
> Data communications Networks
> Local Area Networks