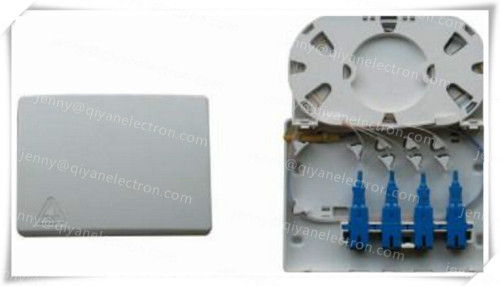 4 Port Fiber Optical Patch Panel FTB-104B / Mini FTTx Fiber Optic Termination Box
Item specifics
Products:

4 Port Fiber Optical Patch Panel FTB-104B
Minimum Order Quantity:

100 pcs
Place of Origin:

Ningbo,China
Lead time:

around 15 working days
Description
4 Port Fiber Optical Patch Panel FTB-104B / Mini FTTx Fiber Optic Termination Box

Description:
FTTH model of Fiber Optic Terminal Box is a newly developed by our company for application of FTTH. The box is light and compact, especially suitable for protective connection of fiber cables and pigtails in FTTH.
Features:
ABS flame retardant material

could be used for wall-mounted and desktop-mounted applications

Self-clip design, easy to operate

Suitable for SC, FC adapters

Max capacity 4fibers

Dimension: 150*110*30mm

Advantage:
1.1. Outdoor cable,drop cable,adapter,mechanical splice fix. Tensile strength >50N,fixed and sturdy.
1.2. Wall outside simplex drop cable input and single port output, indoor outdoor duplex drop cable input and duplex output, outdoor cable input single port output,outdoor cable input multi fiber pigtail output,outdoor cable input multi fiber drop cable output, multiple occasion and environment demand application.
1.3. Optical properties: reserved fiber will not have additional attenuation after operation.
Redundant fiber optic cable in the box will not wreck in the external force.
1.4. Don't limit the households termination method, supports three kinds:
1. 4.1 hot melt (fusion splice) + pigtail
1.4.2 mechanical splice + pigtail
1.4.3 quick assembly connector directly termination
The cable splice straightly, users can freely choose to use current and future the most extensive
access methods, FTTB/FTTF+LAN (fiber to the building or floor), FTTH (fiber to the households),
FTTD (fiber to the desktop).