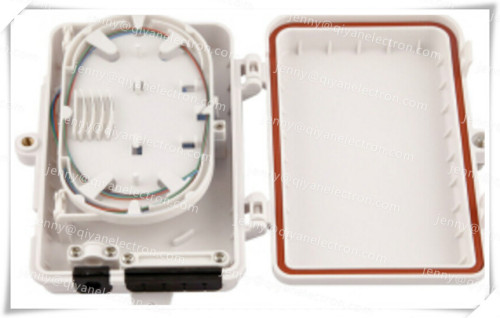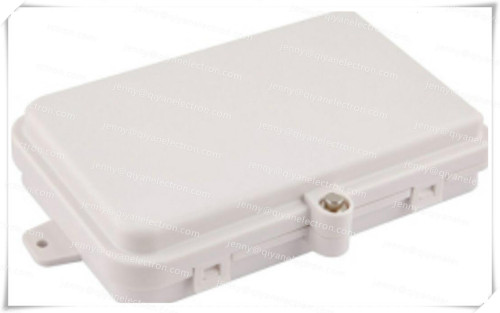 4 Core Mini FTB Fiber Optic Termination Box Waterproof FTTH/FTTX Distribution Box
Item specifics
Products:

4 Core Mini FTB Fiber Optic Termination Box
Certification:

ISO9001
Place of Origin:

Ningbo,China
Minimum Order Quantity:

100 pcs
Lead time:

around 15 working days
Description
4 Core Mini FTB Fiber Optic Termination Box Waterproof FTTH/FTTX Distribution Box

Description:
FTTH Mini 4 Ports Fiber Optic Cable Termination box. used for Indoor & Outdoor application.can be installed 1x2 or 1x4 PLC splitter
FTTH model/ C type terminal box is light and compact, especially suitable for protective connection of fiber cables and pigtails in FTTH. Widely used in the end termination of residential buildings and villas, to fix and splice with pigtails; Can be installed on the wall; May adapt variety of optical connection styles; Optical fiber can be managed effectively. Available for 1*2/1*4 PLC Splitter.
Features:
- White color, graceful style and good adaptability to environment.
- FTTH network and CATV system application.
- Available for 1*2/1*4 PLC Splitter. Design to protect PLC splitter.
- All the materials complied with ROHS standard.
- Made of high quality ABS+PC, anti-collision, flame retardant, resistance to impact.
- Anti-UV, wet-proof, water-proof, dust-proof, anti-aging, protection level up to IP65. Suit for both Outdoor & Indoor.
- Waterproof, Anti-UV, Ultra violet resistant and rainfall resistant.
- Light weight, small cubage, small installation size,realiable sealing.
- Could be connected FTTH Drop cables inside,Special design ensures the excess fiber cords and cables in good order, effectively prevent the miss-operation.
- Design the splicing place for Mechanical Splice
- The base and cover of the box adopts "self-clip" &"screw-clip" two times lock method, which is better to use in outdoor for high sealing and waterproof.
- Easy operation, saving installation working hours, lower costs.
- Diemention:210mm*140mm*40mm (Two type capacity for this size:4cores and 6cores)
Adapter port :
Could be used for LC Duplex, SC ,FC Adapter;
Cable port:
Could be connected 1 inlet ports, 4 outlet ports.
Cable diameter(mm): φ7~φ10