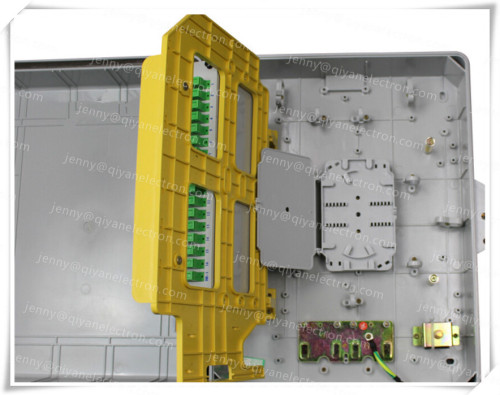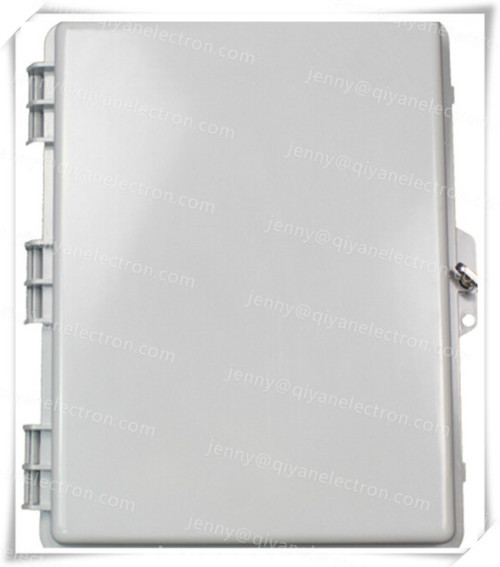 outdoor Mini 1/32 PLC Fiber Optic Splitter Box
Item specifics
Products:

outdoor Mini 1 / 32 PLC Fiber Optic Splitter Box
Place of Origin:

Ningbo,China
Minimum Order Quantity:

100 pcs
Lead time:

around 15 working days
Description
outdoor Mini 1/32 PLC Fiber Optic Splitter Box

Overview:
This distribution box terminates up to 2 fiber optic cables, offers spaces for splitters and up to 48 fusions, allocates 32 SC adapters and working under both indoor and outdoor environments. It is a perfect cost-effective solution-provider in the FTTx networks.

Features:
- Metal material used ensures the body strong.
- Water-proof design for outdoor uses.
- Easy installations: Ready for wall mount and pole mount
- Ready for splitters: designed space for blade splitters.
- Double-layer design for easier installation and maintenances:
- Upper layer for splitters and distribution
- Lower layer for splicing
- Cable fixing units provided for fixing the outdoor optical cable.
- Protection Level: IP 55.
- Accommodates both cable glands as well as tie-wraps
- Lock provided for extra security.
- 6 Adapter-Parking-Slots
- Four cable entrances: each diameter φ 24.5
- One cable exit: diameter φ 40
Dimensions and Capability:

Dimensions (H*W*D):
400 mm*350 mm*110 mm
Adapter Capacity:
32 PCs