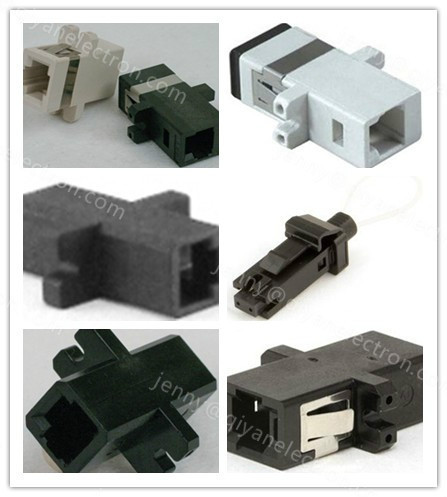 MTRJ Simplex/Duplex Hybrid Metal Fiber Optic Adapter/adaptor
Item specifics
Adapter:

MTRJ
Polish Mode:

UPC, PC
Fiber cores:

Simplex/Duplex
Material:

plastic
Fiber type:

single mode and multimode styles
Description
MTRJ Simplex/Duplex Hybrid Metal Fiber Optic Adapter/adaptor

The fiber optic adapters are many types because of the diversity of the connectors. The fiber optic adapters are available in simplex, duplex and quad (for some types like LC and MU) configurations and with FC, SC, ST, LC, MT-RJ, MU, and more types, type MT-RJ is for use with fiber modem applications. According to the fiber connector types that the adapters used to connect there are standard fiber optic adapter and hybrid fiber optic adapter. Besides, there are also bare fiber optic adapter used to connect with the bare optical fibers directly.
Standard Fiber Optic Adapter
Standard fiber optic adapters are simplex, duplex and quad (for some types like LC and MU) structures, they are female to female type, used to link fiber optic connectors, typically they are with ceramic sleeves, fit for both single mode and multimode fiber optic connections.
Hybrid Fiber Optic Adapter
Fiber optic adapters are typically connecting cables with similiar connectors (SC to SC, LC to LC, etc.). Some adapters, called "hybrid", accept different types of connectors (ST to SC, LC to SC, etc.). A hybrid connector can be designed to fit any two types of fiber-optic cables together. When the connectors have differing ferrule sizes (1.25mm to 2.5mm), as found in LC to SC adapters, the adapters are significantly more expensive because of a more complicated design/manufacturing process.
We offers a wide selection of connector adapter, including FC, SC, ST, LC, MT-RJ, MU, simplex, E2000, FC/APC,duplex, SC/APC, LC/APC, E2000/APC ,quad, mating sleeves, hybrid fiber optic adapters, single mode fiber optic adapters and multimode fiber optic adapters.
Description:
The singlemode and multimode MTRJ adapters are used in two fiber optical interconnects and are therefore well suited for high density applications. The MTRJ adapters come standard in black, with additional colors available upon request.
Features:
1. Plug-in-and-out structure, easy operation
2. High return loss, Low insertion loss
3. Push-and-pull structure, convenient for operation;
4. Split zirconia (ceramic) ferrule is adopted.
5. Used to mate two connectors together.
6. Usually mounted in a distribution panel or wall box.
7. MTRJ adapter is available for all standard connector types in both single mode and multimode.
8. The adapters are color coded allowing easy identification of the adapter type.
9. Available with single-core & multi-core patch cords and pigtails.
Contact Us